Dido and Aeneas
by Henry Purcell and Nahum Tate
"a performance that was elegant, boisterous, and melancholy by turns" - Alex Ross, The New Yorker
Love is invincible. Destiny is inevitable.
Heartbeat's production manifests the magic and the mischief of Purcell's sublime score. By mingling the five singers (who also comprise the chorus) and six instrumentalists on stage with some of the audience, we make this Dido visceral and contemporary. Spurred on by three evil spirits, the queen has no choice but to embrace her love and her destiny.
Directed by Ethan Heard
Music Directed by Jacob Ashworth
Choreographed by Emma Jaster
Scenic Design by Reid Thompson
Costumes Designed by Hunter Kaczorowski
Lighting Designed by Oliver Wason
Cast: Carla Jablonski (Dido), Marie Marquis (Belinda/Ensemble), Anna Slate (Witch/Ensemble), John Taylor Ward (Aeneas/Ensemble), and Christopher Preston Thompson (Sorceress/Ensemble)
Orchestra: Jacob Ashworth (Violin & Conductor), Ryan Closs (Theorbo), Stephen Gamboa (Harpsichord), Molly Goldman (Viola), Jeremy Rhizor (Violin), Sarah Stone (Cello)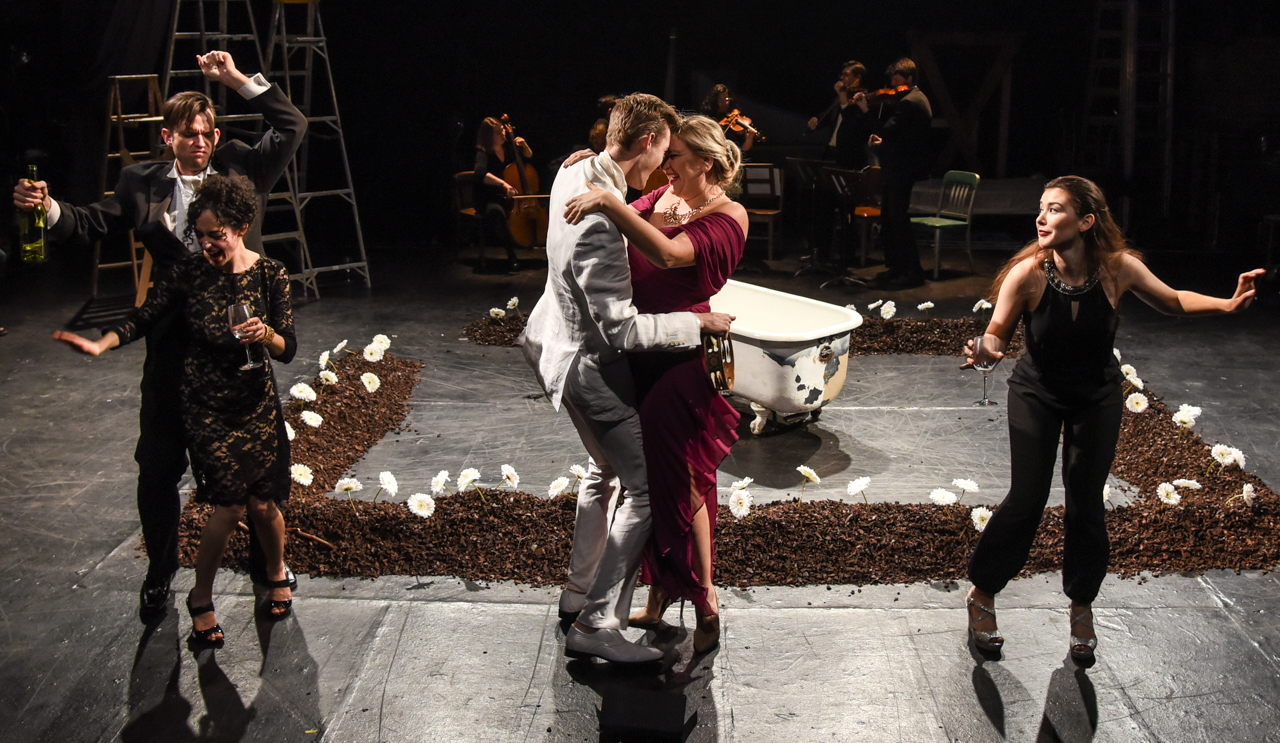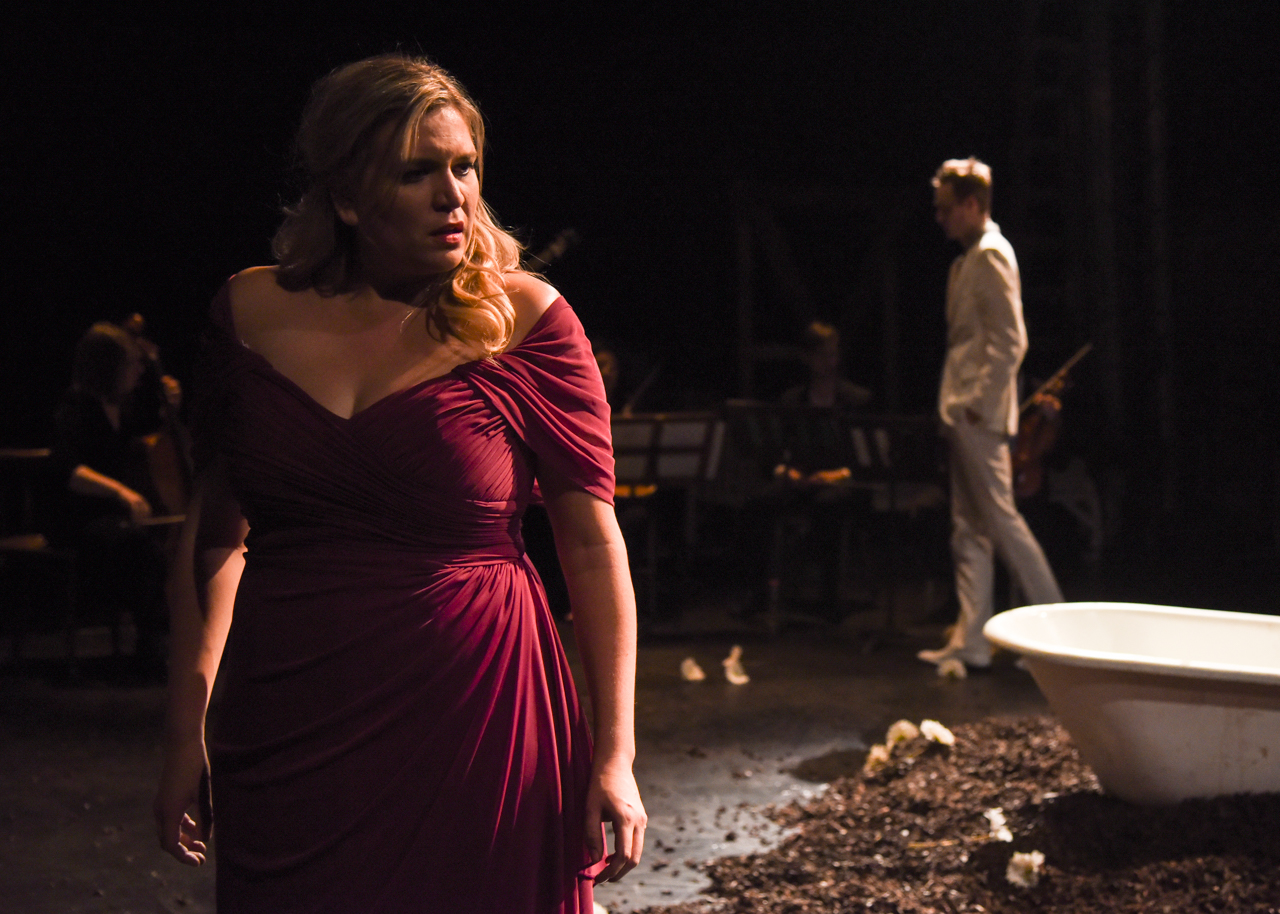 Photos by Russ Rowland and Tyler First
CAST BIOS
Carla Jablonski, Dido
Hailed by the New York Times as a "seasoned and multi-dimensional" singing actor, Carla Jablonski has quickly established herself as an exciting young singer and "vibrant stage personality" to watch. Recently Ms. Jablonski joined the roster of The Metropolitan Opera for Die Meistersinger von Nürnberg and a new production of Verdi's Otello. Last season she joined Florida Grand Opera in her role debut as Dorabella in Cosi fan tutte followed by performances of the Secretary in The Consul. Past seasons include performances with Wolf Trap Opera, Opera Santa Barbara, Central City Opera and Chautauqua.

Ms. Jablonski made her Lincoln Center debut at Alice Tully Hall singing Five Songs by Charles Ives arranged for orchestra by John Adams, followed by her Carnegie Hall debut as the alto soloist in Handel's Messiah. She also has sung as a featured soloist with the Saint Paul Chamber Orchestra, and New York Festival of Song among others.

She holds a Master of Music from The Juilliard School and a Bachelor of Music from Manhattan School of Music and is a proud recipient of a Drama Desk Award.

Marie Marquis, Belinda/Ensemble
Hailed for her "extraordinary virtuosity and elegance" (New York Times), soprano Marie Marquis is an artist who seeks to marry poetry with exquisite musical line. An avid singer of new music, Marie honed her vocal skills in residencies at Songfest and at Tanglewood, where she premiered new works and brought life to music from the baroque. Recent opera roles include Mabel ("The Pirates of Penzance"), Josephine ("HMS Pinafore"), Myrthis (Rameau's "Nelée et Myrthis"), Belinda ("Dido and Aeneas"), Pamina ("The Magic Flute"), and Miriam (Frank Bridge's "A Christmas Rose"). Marie holds bachelor's degrees in Music and French from Peabody Conservatory and Johns Hopkins University, and a master's degree in vocal arts from Bard College. In addition to singing, Marie is a black belt in tae kwon do, and she enjoys knitting, hiking, and baking cinnamon rolls.
Christopher Preston Thompson, Sorceress/Ensemble
Christopher Preston Thompson is a New York City based singer and historic harpist focused on Early music and New music. Christopher is the Executive Director of The Broken Consort and the founding Artistic Director of Medieval ensemble, Concordian Dawn, and has performed as soloist in venues throughout the United States, including New York City's Carnegie Hall. Credits include performances with Gotham Early Music Scene, Toby Twining Music, Pomerium, Grand Harmonie, Houston Early Music Festival, Arizona Early Music Society, Tucson Desert Song Festival, Encompass New Opera Theater, On Site Opera, Underworld Production Opera, among others. www.christopherprestonthompson.com.
Anna Slate, Dark Sister/Ensemble
Since being praised as "the surprise treasure of the night" (SFChronicle) for her professional debut, soprano Anna Slate has since developed an eclectic performance career. On the opera stage Anna has sung such roles as Lucia (The Rape of Lucretia), Atalanta (Xerxes), and Oberto (Alcina). Musical theater roles include Luisa (The Fantasticks), Anne (A Little Night Music), Ruth (Edelweiss Pirates),and the title role in the one-woman show, Alice Unwrapped. In 2014 Anna had the immense pleasure of singing the role of Christine in selections from Phantom of the Opera opposite Tom Wopat in a televised special throughout Wisconsin, and later that year attended SongFest as a prestigious Stern Fellow. A frequent interpreter of early music, Anna has also performed Bach arias with pianist/artistic director John Harbison. Anna can next be seen as Morgana (Alcina) with NYC-based OperaRox.
John Taylor Ward, Aeneas/Ensemble
John Taylor Ward's performances have been praised by the New York Times for their "impressive clarity and color" and "velvety suaveness" and by the Washington Post for "finely calibrated precision and heart-rending expressivity." This season, Taylor has appeared as a principal artist on five continents, joining ensembles such as Les Arts Florissants (as a lauriate of the Jardin des voix), Collegium Vocale Ghent, and the Boston Camerata. Other recent credits include several roles in the Boston Early Music Festival's cycle of Monteverdi operas and the premiere staging of a new opera for the Teatro Mayor of Bogotá, Colombia with the ensemble L'arpeggiata. Originally from Boone, NC, he is a graduate of the Eastman School of Music and he holds two advanced degrees from Yale University. Taylor is a recipient of the Margot Fassler award for excellence in research and performance (2012), the Yale School of Music Alumni Prize (2013), the Harriet Hale Wooley Scholarship for American artists in Paris (2013), and the Carmel Bach Festival's Virginia Best Adams Fellowship (2014).
ORCHESTRA BIOS
Jacob Ashworth, Music Director & Violin
Opera News called violinist Jacob Ashworth's 2015 performance of Kurtag's Kafka-Fragments, with mezzo Annie Rosen, "a flat-out triumph for its two fearless performers." At home across the spectrum of classical music, Jacob has gained a reputation as a consummate stylist, from his "diligent attention to [baroque] period style" (NY Times) to his "exacting and sensitive" interpretations of modern works (Boston Globe). Ashworth is violinist, conductor, and Artistic Director of Cantata Profana, which he founded at Yale School of Music in 2012. He is Co-Music Director of Heartbeat Opera and performs regularly with pianist Lee Dionne.
Ryan Closs, Lute
Ryan Closs is a Lutenist from Long Island, New York, whose strong roots in communal music experiences have lead him towards specializing in chamber ensemble performance. He holds a Bachelors degree in Lute performance from Adelphi University who acknowledged him as "having performed with distinction" (Music Dept.), and "one of Adelphi's finest musical performance students" (Linguistic Dept.). He is also a co-founder of The West Hempstead Consort who strives to bring early music to new communities by reviving then popular songs, dances, and improvisations. Ryan is also a member of Lute Society of America, and Early Music America.
Stephen Gamboa, Harpsichord
Stephen Gamboa was born in Oxnard, California in 1986. After undergraduate studies in harpsichord at UC Berkeley with Charlene Brendler and Davitt Moroney, Stephen headed to Stony Brook University, where he completed his doctoral studies under Arthur Haas. Stephen also holds a master's degree in music history and theory from Stony Brook. He was a laureate of the 2012 Westfield International Harpsichord Competition, and his harpsichord duo Zweikampf were finalists in Early Music America's inaugural Baroque Performance Competition. Currently based in New Haven, Stephen is completing an artist diploma in harpsichord at the Yale School of Music.
Molly Goldman, Viola
Violist and educator Molly Goldman is a graduate student The Juilliard School under the tutelage of Roger Tapping and Cynthia Roberts. Other influential teachers include Jeffrey Irvine and Carol Rodland. Ms. Goldman has held fellowships at the National Repertory Orchestra, Aspen Music Festival and School, Bowdoin International Music Festival and Colorado College Summer Music. She has performed with Juilliard415, AXIOM, New Juilliard Ensemble, Musica Nova at Eastman,Styx, Idina Menzel, and many others. Ms. Goldman has a Bachelor's degree in Applied Music and Music Education from the Eastman School of Music. She is also Co-Artistic Director of the Montserrat Music Project. Ms. Goldman strives to make music exciting, engaging and accessible for all audiences.
Jeremy Rhizor, Violin
is known for his compelling ensemble leadership and for his thoughtful and passionate playing of the violin. The New York Times commended him for "fiddling virtuosically but with fluid grace." Mr. Rhizor was featured in Music Before 1800's 40th Anniversary Celebration and recently completed a recital tour in Nova Scotia. He is the founder and director of the Academy of Sacred Drama- an organization that pairs sacred baroque music with talks on issues of contemporary importance. Mr. Rhizor frequently performs with period-instrument ensembles such as the American Classical Orchestra, the Handel and Haydn Society, Trinity Baroque Orchestra, New Vintage Baroque, Juilliard415, and Musica Angelica. He earned a Bachelor of Music degree and a Performer's Certificate from the Eastman School of Music and a Master of Music degree from The Juilliard School.
Sarah Stone, Cello
Sarah Stone performs on cello and gamba with early music ensembles including Trinity Baroque Orchestra, the Sebastians, Grand Harmonie, Mercury: the Orchestra Redefined, and Juilliard415. She took part in the 2015 Dans les Jardins de William Christie Music Festival with members of Les Arts Florissants in Thiré, France. Sarah also toured Europe with Juilliard415, first performing in the UK and then bringing a program of Bach cantatas to Leipzig. Quartet Resound, her period instrument quartet, represented the Juilliard School in a Smithsonian Symposium on "Historically Informed Performance in American Higher Education." Sarah holds a Masters degree from the Juilliard School as well as the San Francisco Conservatory of Music, and received her Bachelors of Music from Rice University.
CREATIVE & PRODUCTION TEAM BIOS
Julia Fitzgerald, Assistant to the Choreographer
Julia Fitzgerald holds a BA in Drama and French from Vassar College, where she was Props Designer for the Experimental Theater production of The Way of the World and worked on multiple shows with the classical theater group Merely Players. After graduating, she interned at the Smithsonian's Discovery Theater in D.C., where she enjoyed creating fun, educational theater for young people. She is thrilled to be working on her first production with Heartbeat Opera.
Emma Jaster, Choreographer
Emma is a choreographer, teacher, and generative artist. Called a "splendid mover" (The Washington Post) and "a master of her craft" (Baratunde Thurston), she choreographs for actors, dancers, students, and puppets alike. She has worked around the world, including India, Italy, Poland, Taiwan, and France, where she attended the Lecoq school for physical theatre. She is the recipient of multiple fellowships and residencies in the US and abroad, including a HARP artist residency at HERE Arts Center in 2010. She has recently returned to NY and is thrilled to be working with Heartbeat. www.emmajaster.com
Hunter Kaczorowski, Costume Designer
Heartbeat Opera debut! New York credits include: Ars Nova, Public Theater, 59E59, Astoria Performing Arts Center, HERE Arts Center, Dixon Place, Joyce Soho, The New School for Drama, Lee Strasberg Institute, Vital Children's Theater, NY NeoFuturists, Harlem School of the Arts and The Gallery Players. Regional credits include: Signature Theater, Berkshire Theater Festival, Yale Repertory Theater, Barrington Stage Company, Millbrook Playhouse, The Yale Baroque Opera Project, Muhlenberg College, The Red House Theater, Kitchen Theater Company and Luna Stage Company. Upcoming: Cat on a Hot Tin Roof (BTF) and Urban Arias (Washington DC). MFA, Yale School of Drama. www.Huntersk.com
Sarah Martens, Assistant Stage Manager
This is Sarah's first show with Heartbeat Opera (and in New York in general), and she is thrilled to be a part of it! She has recently stage managed for Highland Park Players, Sierra Repertory Theatre, TheatreFirst, and the Neil Simon Festival. Her education includes training at the Pacific Conservatory of the Performing Arts, Southern Utah University and Humboldt State University.
Emily Moler, Artistic Associate/ Assistant Director
Emily is a Brooklyn based director and arts administrator. She serves as the Social Media Manager of the Bushwick Starr, Artistic Associate of Heartbeat Opera, and Co-Artistic Director of Dark Day Players. She recently assisted Ellie Heyman on LongYarn and Michael Leibenluft on I'll Never Love Again, both at The Bushwick Starr. Directing credits include Play Vol. I+II (Dark Day Players) and Charlie Brecht (TinyRhino). In May she graduated from Skidmore College, where she served as the General Manager of the Skidmore College Theater Department, directed the seminar Black Box production of The Penelopiad, and was the recipient of the Margaret Ellen Clifford Memorial Prize.
Reid Thompson, Scenic Designer
For Heartbeat Opera: Miss Handel, Kafka-Fragments, Daphnis & Chloe. Other recent set designs: Merrily We Roll Along (Yale Dramat) A Delicate Ship (Playwright's Realm) Bells are Ringing, The Homecoming, A Little Night Music, Design for Living, The Cat And The Canary (Berkshire Theater Festival) Moderato Cantabile and Antigonick (SummerWorks Festival Toronto) DirectorFest (Drama League) Verano Place (FringeNYC) When I Started Dating Men (Dixon Place) The Love of the Nightingale and After The Fall (Atlantic Theater Co. Conservatory) Erismena (Yale Baroque Opera) HAM (Ars Nova) In The Other Room and Grace (Inner Voices) Upcoming: House Rules (Ma-Yi) Disgraced (Asolo Rep) and the 2015-16 Heartbeat Opera season BFA: Art Institute of Chicago, MFA: Yale. www.reidthompsondesign.com
Oliver Wason, Lighting Designer
Oliver is happy to be working with Heartbeat again, having designed Kafka Fragments and Daphnes and Chloe last year, as well as the benefit performances of Miss Handel and The Fairy Queen. Recent credits include Empty the House (Curtis Opera), Bells are Ringing, A Little Night Music (Berkshire Theatre Festival); peerless (Yale Rep), Accidental Death of an Anarchist (Yale Rep, Berkeley Rep); Erismena (Yale Baroque Opera); Tar Beach (Luna Stage); Grace, The Other Room (TBG Theatre); Sunday in the Park with George, Sagittarius Ponderosa. (Yale School of Drama). Upcoming: House Rules (Ma-Yi). BA Hunter, MFA Yale. oliverwason.com
Dustin Z. West, Stage Manager
Off-Broadway: Delirium's Daughters. NYC: Jules Verne: From Earth to the Moon (BAM), Angels in America: Millennium Approaches, Le nozze di Figaro, Iphigenie en Aulide, Beyond the Machine (The Juilliard School), Broadway UNLOCKED. Regional: The Santa Fe Opera, The Dallas Opera, Atlanta Ballet, Lyric Opera of Kansas City, Knoxville Opera, Entertainment Events Inc., American Theater Company, Theater Wit, EGADS! Theatre Company, and The Living Room. B.A., William Woods University. Professional Stage Management Program, The Juilliard School. Proud member of AEA & AGMA.