CARMEN
Music by Georges Bizet
Libretto by Henri Meilhac and Ludovic Halévy
New arrangement by Daniel Schlosberg
Translation by Michaël Attias
Adapted/ Directed by Louisa Proske
The border is a place of intense turmoil. This radical new adaptation strips down Bizet's explosive masterpiece to the four central characters as they hurl themselves against real and imaginary fences. Carmen's existential dare seduces the enemy in uniform – but in the game of sexual transgression, which lines cannot be crossed?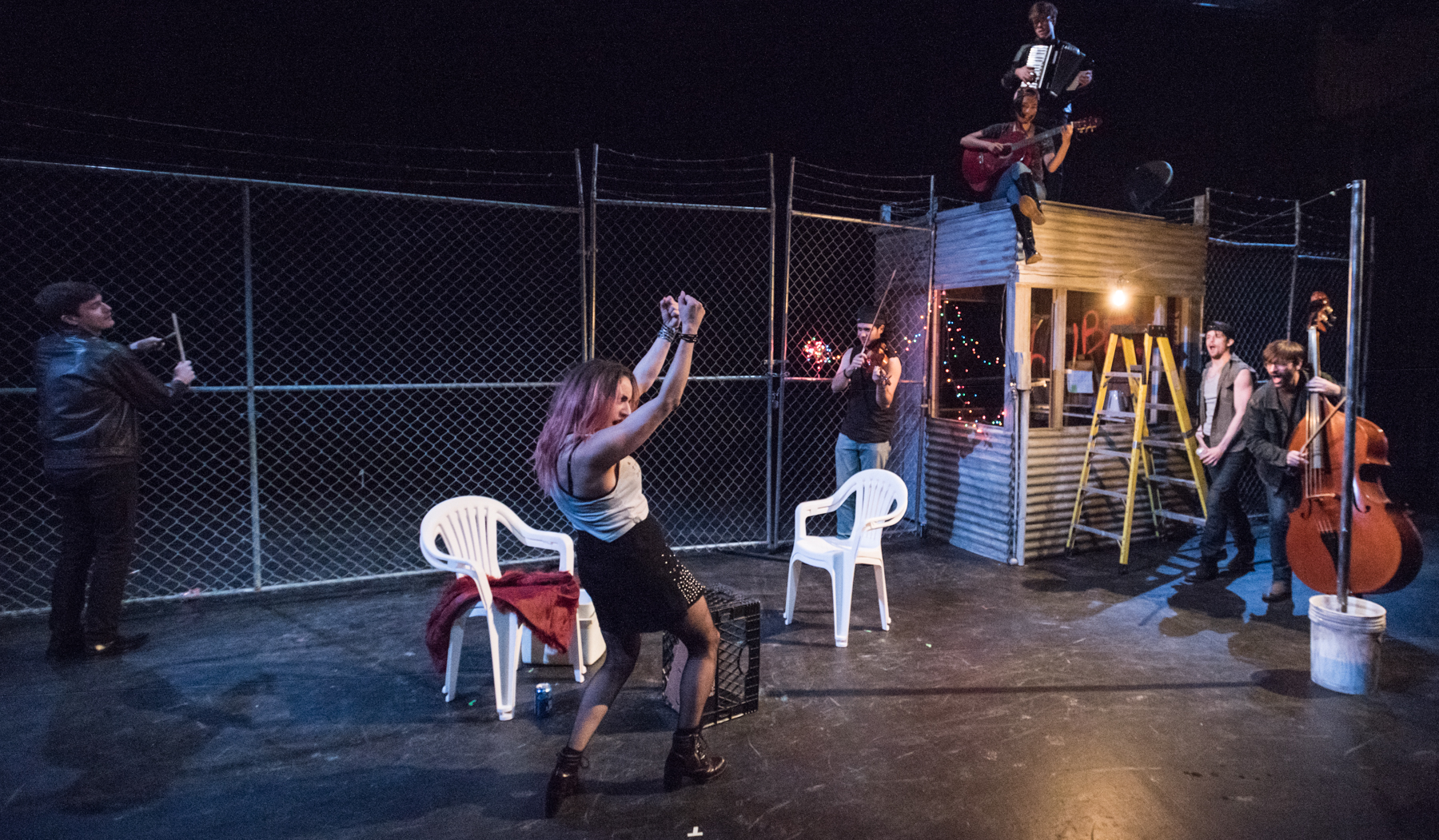 Cast
Carmen // Sishel Claverie
Don José // Brent Reilly Turner
Escamillo // Ricardo Rivera
Micaëla // Jessica Sandidge
Smuggler // Parker Drown
Guard // Doug Durlacher
Production
Stage Direction // Louisa Proske
Music Direction // Daniel Schlosberg
Choreography // Chloe Treat
Fights // Rick Sordelet
Set Design // Kate Noll
Costume Design // Beth Goldenberg
Lighting Design // Oliver Wason
Stage Manager // Blake Kile
"This small, adventurous company strives to make opera a visceral, intimate and immediate 'encounter,' as they have said. Their alterations to masterpieces aim to get past dated elements that can mute the raw emotions and the timeless issues coursing within the original works."
– Anthony Tommasini, 'Butterfly' and 'Carmen,' in Bold and Vivid Cuts (The New York Times)

"The gritty modern production ... and smoldering Carmen (Sishel Claverie) won me over. ... [A]t the end, after Don Jose brutally murdered her and the house went dark, the lights came on, revealing the bloodied, shaken Carmen staring at the audience. After a dramatic pause, Ms. Claverie finally sang the 'Habenera.' Now that was a riveting and unexpected moment.
– Anthony Tommasini, This Week's 8 Best Classical Music Moments (The New York Times)
Relive the 2017 spring Festival
BUTTERFLY // May 20–28, 2017
This daring new adaptation of Puccini's iconic romance explodes the legacy of Western fetishization of the tragic geisha, Madama Butterfly.
See BUTTERFLY Cast & Videos ›
COLLABORET // May 24, 2017
Join us for an evening of eclectic music-theater which draws from Heartbeat Opera's ever widening community of artists and expands the definition of opera.
Learn more ›
OPENING NIGHT GALA // May 23, 2017
Enjoy a double-bill of BUTTERFLY & CARMEN with premium seating and an exclusive prosecco toast at intermission.
See Photos from Opening Night ›
Louisa proske
Stage Director & Adaptation
Louisa Proske directs opera, classical theatre, and new plays with equal passion. She is a Princess Grace Award winner, a Musical America New Artist of the Month, and the proud Founding Co-Artistic Director of Heartbeat Opera. Productions in opera include Agrippina (Lincoln Center - Carnegie Hall/ Juilliard Vocal Arts), La Bohème (Pittsburgh Festival Opera), Così fan tutte (LoftOpera), Don Giovanni, Carmen, Lucia di Lammermoor, Daphnis & Chloé (all Heartbeat Opera), Falstaff (Dell'Arte Opera), Gianni Schicchi, Riders to the Sea, La Voix Humaine (Yale Opera); the world premiere of Invisible Cities at the Italian Academy New York. Theatre productions include The White Devil (Red Bull Theater - NYTimes Critic's Pick), peerless (nominated for a Berkshire Theatre Award for Outstanding Direction), Gaslight, This, Engagements (all Barrington Stage Company), One Day When We Were Young (Assembly, Edinburgh). www.louisaproske.com
Daniel Schlosberg
Music Director & New Arrangement
The music of composer and pianist Daniel Schlosberg has been performed by the the Dover Quartet, Cabrillo Festival Orchestra, Buffalo Philharmonic, Amphion Quartet, Aspen Contemporary Ensemble, Antico Moderno, and Lorelei Ensemble, at such venues as Carnegie Hall (New York), Victoria & Albert Museum (London), St. John's Cathedral (Hong Kong), and Melbourne Recital Centre (Melbourne). Recent work includes the score for a music-theatrical adaptation of Lorca's Once Five Years Pass at the Williamstown Theatre Festival, and music direction of Brecht's Caucasian Chalk Circle at the Yale Repertory Theatre, where he premiered a score by David Lang. He cofounded the composer/performer ensemble INVISIBLE ANATOMY, which debuted last spring with concerts in New York City and at the Beijing Modern Music Festival. Schlosberg received a 2014 Charles Ives Scholarship from the American Academy of Arts and Letters and 2014 ASCAP Morton Gould Young Composer Award. He holds a bachelor's degree from Yale University and a master's from the Yale School of Music. His work has been described as "witty" by the Wall Street Journal.
Sishel Claverie
Carmen
Praised for her "smoky and seductive voice" and for her "winning vocal power and comic timing", Mexican Mezzo-soprano Sishel Claverie is quickly gaining recognition as a stage performer.
This season, Ms. Claverie made her New York City Opera debut with the role of Baroness and the cover of Old Lady, in their new production of Candide, directed by the legendary Harold Prince.
Last year highlights include her debut with El Paso Opera singing the title role in Carmen; the world premiere of the opera Beloved Prey by Kento Iwasaki, in the role of Lioness; Benjamin Britten's cantata Phaedra, with The Houston Symphony Players, and a recital at the Aldeburgh Festival in the UK.
Sishel holds a bachelor's degree in Music from the University of Houston and a Master's degree in Music from Rice University. She currently resides in New York City.
Brent Reilly Turner
Don José
In 2016, American tenor Brent Turner makes his company debuts with Austin Opera in the role of Carlson in Floyd's Of Mice and Men and Atlanta Opera in the role of Crown Prince in Puts' Pulizter Prize winning Silent Night. He was also named the grand prize winner at this year's McCammon Voice Competition in Ft. Worth, TX. In 2015, Turner received grand prize honors at the James Toland Competition in Oakland, CA. He also was named the grand prize winner at the 2015 New Jersey State Opera Competition held in Clifton, NJ.
Turner received 1st place honors at the 2014 Peter Elvins Vocal Competition and again at the 2014 Mary Jacobs Smith Singer of the Year Competition hosted by Shreveport Opera. Turner received 2nd place honors at the 2014 Dallas Opera Guild Competition,
Turner holds a Bachelor of Music degree from Stetson University and a Master of Music from the College-Conservatory of Music at the University of Cincinnati.
Ricardo Rivera
Escamillo
Ricardo Rivera, Baritone, made debuts at the Lyric Opera of Chicago, Houston Grand Opera, and San Diego Opera as Acalán in El pasado nunca se termina. This season, he sang Hérode in Hérodiade with Washington Concert Opera; Enrico in Lucia di Lammermoor and Lt. Audebert in Silent Night with Opera San José; and Escamillo in Carmen with Musica Viva Hong Kong. He has performed with: Santa Fe Opera, Opera Philadelphia, Opera Orchestra of NY, El Paso Opera, Castleton Festival, Knoxville Opera, Chautauqua Opera, and Opera Company of Middlebury. He is a graduate (B.M., M.M., & PdPL) of Mannes College the New School for Music where he was the recipient Richard F. Gold Career Grant.
Jessica Sandidge
Micaëla
Soprano Jessica Sandidge has been described as having a "genuinely beautiful sound throughout her voice." She recently joined the Metropolitan Opera covering the role of Jano in Janácek's Jenufa, and made her second appearance at Lincoln Center as the Soprano soloist in the National Chorale's Messiah (Händel). Her Lincoln Center debut was just a few months prior, when she performed Violetta's aria, Ah, forse è lui...Sempre libera with the ISO of New York. Of her performance as Mimì with Martina Arroyo's Prelude to Performance, Anthony Tommasini of the New York Times wrote: "[she] brings a melting soprano voice and vulnerability to Mimi…"
Parker Drown
Smuggler
Parker Drown is an overly enthusiastic Opera neophyte and beyond thrilled to be joining the incredibly talented cast of Carmen.
NY Theatre: Buyer and Cellar (Penguin Rep), The Lightning Thief (Lucille Lortel), The Good Swimmer (Here Arts Center), Cabaret (The Secret Theatre); Regional Theatre: Kid Victory, Hairspray (Signature Theatre), A Chorus Line, Spring Awakening (Olney Theatre Center), Speech and Debate (Rep Stage), Rent (Keegan Theatre, Helen Hayes Award). Thank you to Louisa, Dan, and the entire Heartbeat Opera family. And a special shoutout to Chloe Treat for not only her continued artistic inspiration, but also her sweet generosity of employment.
Doug Durlacher
Guard
Honored to make his Heartbeat Opera debut, Doug's previous NYC acting credits include: Gus in Creditors, George in Hedda Gabler, Claudius Macbeth in The Ghost (Bottoms Dream); Macduff in TheBcaM (Inertia Productions); The Captain in The Mary Celeste (Gravity and Glass Productions). Other notable acting credits: Richard III in Richard III, The Player in Rosencrantz and Guildenstern Are Dead, Bottom in A Midsummer Nights Dream, Falstaff in Merry Wives of Windsor (Adirondack Shakespeare Company); Don Armado in Loves Labours Lost (Revolution Shakespeare); and many more. Doug is also a director, fight choreographer, scenic designer, and singer/songwriter.
Michaël Attias
Saxophones
Michaël Attias is a saxophonist/composer based in New York City since 1994.
As a leader, he has released seven critically-acclaimed albums, most recently the 2017 debut of the Michaël Attias Quartet, Nerve Dance. As a sideman, he has performed and recorded all over the world alongside some of today's most original and compelling musicians. Attias has also composed and designed sound in New York and at various regional theatres. He was named a 2000 Artists' Fellowship Recipient of the New York Foundation for the Arts and was awarded MacDowell Arts Colony fellowships in Fall 2008 and Summer 2016.
Jonny Allen
Percussion
Described by the Washington Post as "revitalizing the world of contemporary music" with "jaw-dropping virtuosity", Jonny Allen is a Brooklyn based percussionist whose passion for music is contagious. He has won prizes at both the International Chamber Music Competition and the International Marimba Competition in Salzburg, giving respective performances at Carnegie Hall and Schloss Hoch in Flachau, Austria. Jonny performs across the united states and internationally with his percussion quartet, Sandbox, and his jazz trio, Triplepoint. He is sponsored by Remo drumheads and by the stick and mallet company, Vic Firth. He holds a Bachelor's degree from the Eastman School of Music, as well as a Masters degree and Artist Diploma from the Yale School of Music where he performed with the world class Yale Percussion Group.
Jiyeon Kim
Guitars
Applauded by the Calgary Herald as "…talented, sensitive…brilliant," Jiji is an adventurous artist on both acoustic and electric guitar, playing an extensive range of music from traditional and contemporary classical music to free improvisation. Her impeccable musicianship combined with compelling stage presence and fascinating repertoire earned the Korean guitarist First Prize at the 2016 Concert Artists Guild International Competition. Upcoming engagements include her New York Recital debut at Weill Recital Hall on the CAG series, 92nd st Y Guitar Fest, and numerous other performance prizes resulting from her CAG victory, including a recital at Festival Napa Valley in July 2017.
Matheus Souza
Violin/Viola
Matheus Garcia Souza is a Brazilian violinist, instructor and conductor with an eclectic musical background. His early interest in Brazilian popular music, also known as Choro, gave him tools to go beyond the strict classical training imposed in most violinists. His latest performances include touring Japan with the New York Symphonic Ensemble, soloing in Brazil with the Londrina State University Symphony Orchestra, and recording soundtracks in the United States for franchises such as Final Fantasy, Tomb Raider, and Kingdom Hearts.
Tristan Kasten-Krause
Bass
Tristan Kasten-Krause is an upright and electric bassist living in Brooklyn, New York. He has performed with Ensemble Signal, Wet Ink Large Ensemble, Contemporaneous, LoftOpera, Tigue, and has played on the Guggenheim's Works and Process series, BRIC's Celebrate Brooklyn festival, The Ecstatic Music Festival, and others. He has showcased new works with Steve Reich, made noise records with members of Cloud Nothings, is the bassist of the avant-rock band Marateck and the co-founder & artistic director of Brooklyn-based presenting organization Real Loud. Tristan is a two-year alumnus with Bang on a Can's Summer Festival at MASS MoCA. He holds a master's degree from the Hartt School where he studied with Robert Black.
Sara Holdren
Assistant Director
Sara Holdren is a director, teacher, and Artistic Director/co-founder of the theater company Tiltyard. She likes to tell big stories, specializing in reimagined classics and epic, spectacular tales new and old. Recent projects include MIDSUMMER (which she co-adapted from the plays of Shakespeare) with Tiltyard, Deer and the Lovers by Emily Zemba, The Zero Scenario by Ryan Campbell, The Master and Margarita by Mikhail Bulgakov, and Sarah Ruhl's adaptation of Virginia Woolf's Orlando. She served as Artistic Director of the 2015 Yale Summer Cabaret and is a 2016 Drama League Fellow. www.saraholdren.com (BA, Yale University. MFA, Yale School of Drama.)
Chloe Treat
Choreographer
Chloe Treat is a New York based director and choreographer. Born and raised in the great, if not occasionally problematic state of Texas; she directs and choreographs musicals, plays, operas, outdoor dance rituals and feminist westerns. Chloe's work centers on the curation and creation of modern mythologies, and investigates how theater can act as ritual and inspire communal awe. Recently, Chloe has worked on The Good Swimmer at HERE arts, Natasha Pierre and the Great Comet of 1812 at A.R.T and Amelie the Musical at Berkeley Rep. Chloe is thrilled to be returning to Heartbeat Opera for their second season.
Kate Noll
Set Designer
Kate Noll is a New York City based set designer. Recent credits include Peerless (Marin Theater Company), Agrippina (Juilliard), Cosi Fan Tutte (Loft Opera), Xerse (Yale Baroque Opera), Orange Julius & Utility (Rattlestick), I and You (Theater Squared), Stones in his Pockets (Shanghai Dramatic Arts Center), Accidental Death of an Anarchist (Yale Rep, Berkeley Rep, nominated for a Connecticut Critics Circle Award), In A Tilted Place (IRT Theater), Gordy Crashes (Ricochet Collective), Kristina (August Strindberg Rep), This Lingering Life (HERE), The Fatal Eggs (Fractured Atlas) Ermynturde & Esmeralda (Ars Nova), Gloria, A Pig Tail (New York Philharmonic), Cloud 9 (YSD). She is a graduate of RISD and Yale School of Drama. katenoll.com
Beth Goldenberg
Costume Designer
Beth Goldenberg has previously collaborated with Heartbeat Opera on Lucia di Lammermoor, Kafka's Fragments and Daphnis & Chloé. Other opera design credits include: Stabat Mater, the little match girl passion, Macbeth (Glimmerglass), Agrippina(Juilliard); and The Secret Gardener (On Site Opera). Her work in theatre includes productions with Second Stage Theatre, The New Group, Red Bull Theater, Lesser America, Dallas Theatre Center, La Jolla Playhouse, Hartford Stage, Kansas City Repertory Theatre, Asolo Repertory Theatre and Barrington Stage Co, among others. She holds an MFA from New York University. www.bethgoldenbergdesign.com
Oliver Wason
Lighting Designer
Oliver is thrilled to be back with Heartbeat, having previously designed Lucia di Lammermoor, Dido and Aeneas, Kafka Fragments, Daphnis and Chloe, as well performances on the Highline and at National Sawdust. Recent designs include:Agrippina (Juilliard Opera); Peer Gynt and the Norwegian Hapa Band, Among the Dead(Ma-Yi); Sagittarius Ponderosa (NAATCO); Stones in his Pockets (Shanghai Dramatic Arts Center); Little Shop of Horrors, Bells Are Ringing, A Little Night Music (Berkshire Theater Festival); Wonderland (Atlantic for Kids); peerless (Yale Rep, Barrington Stage); Accidental Death of an Anarchist (Berkeley Rep, Yale Rep); Empty the House (Curtis Opera).
Rick Sordelet
Fight Director
Rick and his son Christian are creators of Sordelet INC. 72 Broadway productions, 62 productions on five continents. 100's of regional theaters. Current: Julius Caesar for the Public in the Park, Indecent on Broadway, Macbeth Shakespeare Theater Washington DC. Stunt coordinators KEVIN CAN WAIT starring Kevin James. Nominated for a Drama Desk Award for Troilus and Cressida. Rick is also a partner with author David Blixt of an e-publishing company called SordeletINK. www.sordeletink.com
Ian Scot
Sound Designer
Ian Scot is a composer and sound designer specializing in the development of new works. Selected credits include: Mary Jane (YaleRep); Purple Eyes, The Little Edelweiss (Stages Repertory Theatre); Boy Gets Violent (Ars Nova ANTFEST); Othello, Blood Wedding, Some Bodies Travel, This Land Was Made, and The Merchant of Venice (Yale School of Drama); Mrs. Galveston, Dutch Masters, Roberto Zucco, Moon Song, 50:13, Touch, and three proud consecutive years of Yale School of Drag (Yale Cabaret). Other credits include exhibitions, installations, original compositions, and musical performances at Yale University Art Gallery, Boston Conservatory, Texas A&M University-Corpus Christi, Florida State University, Midnight Laboratory, A+D Gallery in Chicago, 621 Gallery, Proyecto Teatro, and the greater southern United States. Ian received his MFA in Sound Design at the Yale School of Drama and his MA in Interdisciplinary Arts at Columbia College Chicago. ianscot.com
Blake Kile
Stage Manager
Blake Kile is a New York-based stage manager and theater artist. His work has been seen on Broadway, Off-Broadway, and across many different Regional Theaters. Highlights included: Charlie and the Chocolate Factory, Theater for a New Audience, Signature Theatre, Brian Sanders' Junk, LoftOpera, Metropolitan Ballet Company, Columbia Stages and Uptown Players. He would like to thank his friends, family, and his boyfriend Derek. To find out more about him visit BlakeKile.com and follow him @BlakeStageMgmt. MFA Columbia.
Jacob Dunham
Assistant Stage Manager
Jacob is a theatre director based in the NY Metro Area. After concluding his studies in Theatre Direction from Temple University, his experience has ranged from directing, casting and actor representation. Recent casting projects: CHICAGO (B'way), ON THE TOWN (B'way), BULLETS OVER BROADWAY (National Tour). Television/Film Casting: SILVERLINING PLAYBOOKS, DO NO HARM (NBC), THE DEVIL YOU KNOW (HBO), SPIDERMAN: HOMECOMING (Marvel). Recent Directing credits: DOUBT (Skyline Theatre Co.) OVER THE TAVERN (Temple University), and ALMOST, MAINE (Temple University). Jacob has been the recipient of The University Of The Arts Artistic Director's Award, the Arts In Motion Award For Drama, the Fryeburg Academy Theatre Award and is certified with the Society of American Fight Directors. He is ecstatic to join Heartbeat Opera!